Posts for tag: sleep apnea
By St. George Dental Care
March 19, 2021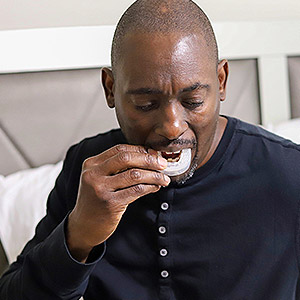 If you live an average lifespan, you'll spend more than 200,000 hours in blissful slumber. It's not a waste, though: You absolutely need this much sleep to maintain optimum physical and mental health. That's why the National Sleep Foundation recognizes each March as Sleep Awareness Month to highlight the obstacles to a good night's sleep. One such obstacle is obstructive sleep apnea (OSA)—and if you have it, we may be able to help you reduce the harm it may be causing you.
OSA is the blockage of the airway during sleep, usually when the tongue relaxes against the back of the throat. As the oxygen level falls, the brain arouses the sleeper to restore airflow. This only takes a few seconds before the person slips back into sleep, but it can occur several times an hour.
As this scenario repeats itself night after night, the person becomes deprived of the deeper stages of sleep they need to stay healthy. The long-term effect can even be life-threatening: Besides chronic fatigue and "brain fog," there's also an increased risk of high blood pressure, disease or other serious health conditions.
But there are ways to reduce chronic OSA, the most common being a therapy known as continuous positive airway pressure (CPAP). A CPAP machine, prescribed by a medical doctor, consists of a small pump that streams pressurized air into the mouth through a hose and facemask; the increased air pressure in the mouth helps keep the airway open. It's a proven method, but not always a favorite with some patients who find it uncomfortable and restrictive to wear every night.
If you're in that camp regarding CPAP therapy, an alternative may be possible: oral appliance therapy (OAT), which dentists can provide. Worn in the mouth during sleep, this custom-fitted mouthguard-like appliance repositions the tongue so that it doesn't block the airway. There is a variety of mechanisms, but most involve a hinge that positions the lower jaw forward, which in turn pulls the tongue away from the back of the throat.
These less invasive OAT devices may be an alternative to CPAP therapy for people who have mild to moderate OSA and find CPAP machines difficult to use. If you've been diagnosed with OSA and CPAP therapy hasn't been a good fit for you, speak with us about an OAT device. It could help you overcome this common disorder and get the deep sleep you need for a healthy mind and body.
If you would like more information about a dental approach to obstructive sleep apnea, please contact us or schedule a consultation. To learn more, read the Dear Doctor magazine article "Sleep Disorders & Dentistry."
By St. George Dental Care
July 28, 2020
Millions of people have obstructive sleep apnea—and some don't even realize it. That's because even though these airway-blocking episodes can occur several times a night, they may only last a few seconds. The brain rouses the body just long enough to open the airway but not long enough to awaken the person to consciousness.
Even though a person with sleep apnea might not remember what happened to them, they can still experience the effects of sleep disturbance: drowsiness, irritability or an inability to focus. Over time, the accumulation of "bad sleep" could increase their risk for heart disease or other life-threatening conditions.
But there are effective ways to alleviate or lessen obstructive sleep apnea. The main "go-to" treatment is a method called continuous positive airway pressure (CPAP). CPAP utilizes an electric pump that supplies a constant flow of pressurized air through a mask worn by the patient while sleeping. The increased air pressure around the throat helps keep the airway open.
But although it's effective, CPAP is unpopular with many people who have tried it. Many find the hose and other equipment cumbersome, or the mask too uncomfortable or restrictive to wear. As a result, quite a number simply avoid using it.
If you've had a similar experience with CPAP or would rather explore other options, we may have an alternative: an oral appliance you wear while you sleep. It can help prevent or lessen symptoms in cases of mild to moderate airway obstruction caused by the tongue or other forms of tissue.
Sleep apnea appliances come in two basic forms. One uses metal hinges to help move the lower jaw and tongue forward. The other form has a compartment that fits around the tongue and applies suction to help keep the tongue moved forward.
These appliances may not be suitable for patients with severe sleep apnea or whose cause is something other than a physical obstruction like abnormal neurological signaling patterns. But where they are appropriate, they can be an effective alternative to CPAP and the key to a better night's sleep.
If you would like more information on this dental solution for sleep apnea, please contact us or schedule an appointment for a consultation. You can also learn more about this topic by reading the Dear Doctor magazine article "Oral Appliances for Sleep Apnea."
By St. George Dental Care
April 19, 2020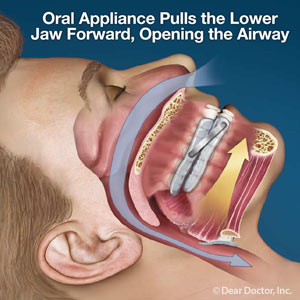 Do you wake up in the morning still feeling tired? Are you drowsy, irritable or have difficulty concentrating? And is your snoring habit a running joke around your household?
If you mostly answered yes, you may have obstructive sleep apnea (OSA). This condition is more than an irritation—it could also have major health implications if not addressed.
OSA occurs when the airway becomes temporarily blocked during sleep. The tongue (or other mouth structures like tonsils or the uvula) is often the cause as it relaxes and covers the back of the throat. Although you're asleep, the brain notices the drop in oxygen and initiates arousal to unblock the airway. As this action usually only takes a few seconds, you may not fully awake every time; but because it can occur several times a night, it can rob you of the deep sleep you need for well-being.
If you're diagnosed with OSA, your doctor may recommend continuous positive airway pressure therapy (CPAP). This treatment uses a pump device to supply continuous pressurized air through a hose connected to a face mask worn during sleep. The elevated pressure helps keep the airway open.
While this approach is quite effective, many people find wearing the equipment uncomfortable or confining, and may choose not to use it. If that describes you, a qualified dentist may be able to provide you with an alternative called oral appliance therapy (OAT).
OAT uses a custom-made plastic oral appliance you wear while you sleep. The most common snaps over the teeth and uses a hinge mechanism to move the lower jaw (and the tongue with it) forward.
OAT is recommended for people with mild to moderate OSA, or those with severe symptoms who can't tolerate CPAP. If you'd like to see if an OAT appliance could help you, contact us for a complete oral examination. Either treatment can improve your sleep and daily lifestyle, as well as help prevent certain health issues in the future.
If you would like more information on treatments for sleep apnea, please contact us or schedule an appointment for a consultation. You can also learn more about this topic by reading the Dear Doctor magazine article "Oral Appliances for Sleep Apnea."